The eco-bin trial
Various householders across Essex will be taking part in the trials commencing in February 2006. Everyone who takes part in this trial can keep the eco-bin free of charge and there will be other incentives on offer as well.
During the trial
Please place all items from your eco-bin in the special plastic bag provided for these trials. This is so that we can easily transport items to the sorting centre for weighing to see how much you have managed to recycle. Please note that individual households will only be identified in order to let you know what your recycling has achieved.
After these trials
Please carry on using the box, bin, or bag provided by your local council for recycling those items that they collect from your home.
For anything that can't be collected from home please use your local recycling banks, Household Waste Recycling Centre and charity shops or the FREEPOST envelopes provided with your trial pack. For further advice contact your local council's recycling officer.
Further information
The eco-bin is supplied by Waste4Recycling.
For further information on waste reduction, reuse, recycling and buying recycled visit www.recyclenow.com
Funding for these trials has come from Defra.
This website is produced by sixtyeight.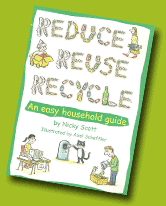 Reduce Reuse Recycle book free with every trial.